LOW TOTAL COST
With UltraVision Software embedded, it's the complete solution
TOPAZ32 is a fully integrated phased array UT system. 2D matrix array probe support is now included without the need of any external software. This fully-integrated and simplified approach can reduce the amount of equipment needed to perform an inspection. Powered by high-density, long-life batteries it is a standalone instrument which can perform:
Inspection set-up and calibration
Data acquisition and analysis
Final reporting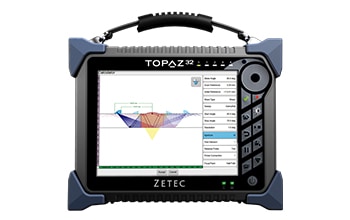 The onboard calculator can do it all
Every inspection step from preparation to final report can be carried out onboard, with no need to connect to an external computer or employ third party software. TOPAZ32 also offers a range of innovative features to allow users to enjoy greater probability of detection and enhanced reporting. The heart of the Topaz32 instrument is its onboard calculator.

Versatile and built to last
Topaz32 features a rugged magnesium housing that is long lasting yet lightweight. Plus TOPAZ32 has no air intake preventing the ingress of dust, humidity or any contaminants making it ideal for harshest of environments. One of the most versatile phased array instruments available, TOPAZ32 is powered by the software engine Ultravision, common to the entire Zetec ultrasonic flaw detector product range. It can be used as a powerful stand-alone instrument or connected to a PC using UltraVision Touch or driven by UltraVision 3 for extended capability. The flexibility is endless.

Powerful onboard reporting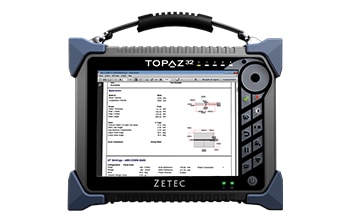 TOPAZ32 can generate reports to meet every user requirement. Onboard templates are available to provide reports according to the level of information required. Reports can cover scanplans, specimen and weld information, operating parameters, tables of indication, individual images with flaws identified, as well as comprehensive reports.