Eddy current array solutions that meet your surface inspection needs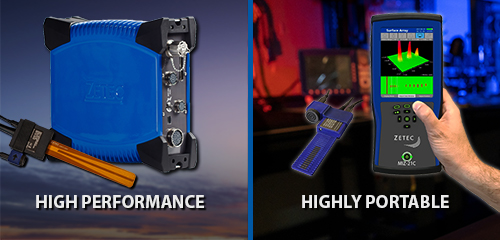 Zetec Eddy Current Array (ECA) solutions are specifically designed to solve the challenges that aerospace, power generation and oil and gas companies face everyday. From detecting extremely small defects to inspecting non-flat surfaces and covering a wide area in a single pass, Zetec delivers. Our powerful and integrated eddy current array technologies deliver the results you can count on. Zetec offers two powerful ECA solutions:
Solution 1: High performance ECA
The MIZ-200 eddy current instrument can handle the most demanding environments with ease. When combined with the Surf-X tape probes and UltraVision ET software, this solution delivers impressive array c-scan display capabilities and a wider single pass scan, up to 224mm (8.8in). In fact, it's the largest scan size from a standard off-the-shelf product, only available from Zetec.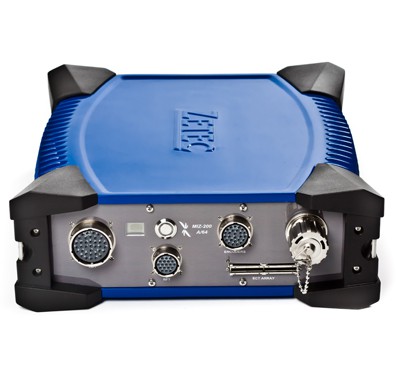 MIZ-200 is a high-performance, battery operated, remote data acquisition unit delivering significant benefits for industrial environments.
Industry leading signal to noise ratio improves probability of detection (POD)
Rugged cast aluminum case designed to withstand the bumps and drops that inevitably happen in inspection environments
Sealed and fanless unit withstands dust and water — no moving parts or exposed openings

Zetec introduces the new 64 & 128 coil Surf-X eddy current array tape probes. Thanks to its highly flexible design and high sensitivity of surface breaking indications, these new tape probe additions to the Surf-X family unlock a wider range of surface inspection applications across numerous industries.
Tool-less detachable design enables users to replace a coil set from the electronics module in minutes.
Highly versatile clip-on encoder further simplifies the surface inspection user experience.
UltraVision ET leverages the simplicity of the industry proven UltraVision software interface for ultrasound and applies it to the eddy current array surface inspection process. It provides a powerful platform for eddy current data acquisition, analysis, and reporting in one simple, easy-to-use application.
Supports the new Surf-X array tape probes for a wide range of applications
Features automatic loading of the acquisition setup by taking advantage of the probe's one-wire technology and faster data calibration process.
Intuitive 2D and 3D C-Scans for faster and easier inspections.
Solution 2: Highly portable ECA
The MIZ-21C Eddy Current handheld instrument and Zetec Surf-X Array Probe is one of the most cost-effective, portable surface array solutions in the market. The small form factor of the MIZ-21C enables users to inspect hard-to-reach areas and components that other instruments can't. MIZ-21C brings the power of surface array to places it has never been before. This solution delivers significant inspection advantages over Liquid Penetrant Testing (PT) and Magnetic Particle Testing (MT) and can reduce inspection time by up to 95% versus pencil probes.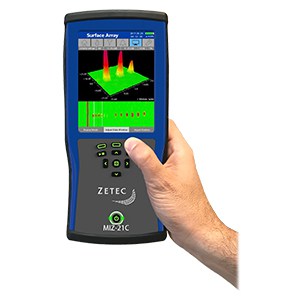 The truly affordable MIZ-21C is the most advanced handheld instrument with surface array capabilities.
Save time and money: Fast, highly portable and cost-effective.
Inspect more areas: MIZ-21C can be held for twice as long as other Eddy Current portable devices.
Improve flaw detection: MIZ-21C features an industry-leading signal quality providing up to 25% better flaw detection capability.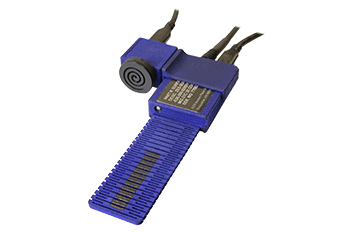 Featuring a unique flexible circuit design, Surf-X array probes can lower total cost of ownership while providing excellent data quality as well as faster, safer inspections when compared with other inspection methods.
Fast inspections, no chemicals: A cost-effective, chemical-free replacement for Liquid Penetrant Testing (PT) and Magnetic Particle Testing (MT).
Accurate, high quality results: Patented and proven X-Probe technology-based coil set delivers added dependability and accuracy.
View our Webinar
When it comes to affordability, performance, accuracy and dependability, Zetec's eddy current surface array solutions are second to none.