Why an NDT Equipment Upgrade is Easier Than You Think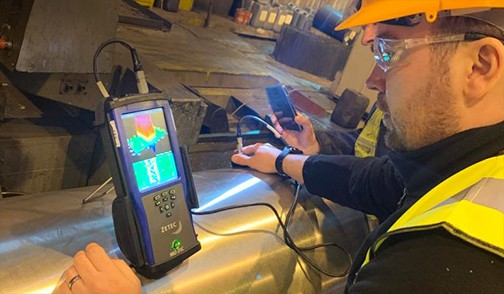 A nondestructive testing (NDT) equipment upgrade may seem like a cumbersome process, but relying on older, possibly outdated equipment can result in substandard data and time-consuming testing strategies. Cutting-edge instruments can shorten training sessions and streamline the testing process.
Thanks to highly intuitive software and equipment, NDT analysts can learn how to use new instruments quicker than in the past. This article will explain why an NDT equipment upgrade isn't as precarious as many believe.
How to Ensure an NDT Equipment Upgrade Goes Smoothly
When dealing with equipment upgrades, search for an NDT provider that offers product training. Training is the best way to transition from old instruments to new ones without hassle. Product and technical experts can help students with matters such as performing quick calibration and leveraging powerful data analytics capabilities of the new equipment.
Additionally, there are technology and application trainings available from a wide range of organizations that train NDT analysts of all skill levels.
Example: For ultrasonic (UT) training, an entry-level course will include coursework such as reporting data accurately, applying UT techniques, and learning setup procedures. Advanced studies for level 2 and 3 personnel include setting up the new instruments without supervision, analytical methods, and leadership education.
Companies can save time and money by outsourcing the training sessions, immersing all technicians in the best possible methods that prepare them in the field much sooner.
The NDT Equipment for Your Next Upgrade
In addition to product training, your NDT equipment should provide a seamless data-processing regimen with tools that dispel the need for complex setup and interpretation activities. Therefore, users can have an easier time mastering new equipment.
UT software, for example, provides a seamless introduction before and after the testing procedure:
Automation: The automatic capabilities can pinpoint probes while reading probe parameters automatically. Further, advanced procedures can alert technicians of any probe changes.
Processing Techniques: Advanced processing can implement different displays and correct any form of processing, without jeopardizing any of the raw data.
Reporting Simplification: Reported data is available in easy to read reports with customization capabilities in case technicians must add more information.
These features foster a seamless transition from old instruments to new ones, buffering user readiness and immersing trainees in a simple interface. Moreover, more advanced instruments have integrated software capabilities that can eliminate the need for costly third-party software packages.
Software and Instrumentation for an NDT Equipment Upgrade
Software can boost inspection capabilities and help manage signal quality, but technicians must match quality software with tools that can adapt to complicated geometric contours and find hidden deviations. Products like scanners and flexible probes that conform to complicated surfaces mean less inspection time and higher data quality. Failing to convert to new instrumentation may force analysts to rely on substandard solutions that carry consistent hurdles. Outdated instruments are prone to problems including slower processing or bulkiness, both of which can have negative productivity ramifications during testing.
On the other hand, a high-quality instrument helps technicians find more flaws in less time and without the trials of time-consuming training or complex setup procedures. Overall, new instruments can simplify NDT training in the following ways:
Signal Quality: The sensitive detection scheme for UT and eddy current testing (ECT) can penetrate many structures and read flaws that typically escape detection. For example, some ECT instruments can offer up to a 25 percent better flaw detection capability due to a higher signal to noise ratio.
Crisp Visuals: Advanced features like full matrix capture technology and total focusing method (i.e. a UT instrument with TFM of up to one million data points per frame) make it easy to see everything.
Instrumentation Consolidation: A great instrument can easily handle more than one inspection technique, like a UT instrument that can perform both phased array and time of flight diffraction (TOFD).
An NDT equipment upgrade allows technicians to focus on flaw-finding missions instead of extensive retraining and rough introductions. Top-notch signal quality and enhanced visualization allows technicians to learn faster and use the tools without a heavy learning curve. Also, the best product training should come directly from the manufacturers, as they have an intimate knowledge of the instruments and can give trainees the best strategies to maximize the flaw detection process.
Zetec is a leading provider of UT and ECT instrumentation for NDT professionals. Contact us today to learn about our product training courses and how our products can streamline the NDT equipment upgrade process.