Industrial Inspection and Analysis Solutions Provided by NDT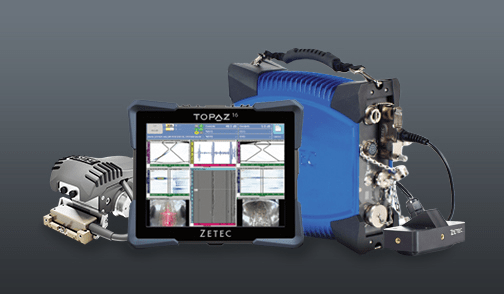 Non-destructive testing (NDT) is often one of the most integral procedures conducted during manufacturing. In most industries including automotive, aerospace, oil and gas, and power generation, NDT is adapted to verify the quality of the manufactured component before it's placed in service.
NDT can work as a quality control process during manufacturing by detecting flaws, inclusions, discontinuities, and non-conformances in the material throughout the lifetime of the production process. Flaws such as cracks, corrosion, porosity, lack of bond, and shrinkages can occur at any stage of the manufacturing process—from the raw material of the component to the fabrication and assembly of the final product.
Even though quality should be tested at an early stage, the final product must also undergo industrial inspection and analysis to ensure its safety. There are different NDT methods to conduct the necessary inspection.
Types of NDT for Industrial Inspection and Analysis
NDT aims to significantly reduce waste and can help to minimize the cost of repair that could potentially be high during later stages of the project. With less waste and improved quality, industries can focus on achieving production goals.
To validate the quality of their products, industries typically use various NDT methods. These may include:
Eddy current testing
Ultrasonic testing
Radiographic testing
Liquid penetrant testing
Acoustic emission testing
Visual testing
Magnetic particle testing
Eddy current and ultrasonic testing are two of the most widely used inspection methods with the ability to effectively detect cracks, corrosions, porosity, and lack of bond in the component. Zetec can assist you in the selection of eddy current and ultrasonic inspection solutions for your NDT needs.
Industrial Inspection and Analysis: Resources and Applications
Non-destructive testing is often used for material inspection during machining, fabrication, and assembly phases by a wide range of industries to address their quality control, safety, and productivity needs. We have compiled a list of resources that explain how NDT solutions can help industries to achieve their quality and production goals.
Product Recommendations for Industrial Inspection and Analysis
Zetec offers a wide range of NDT instruments to meet your industrial specification. To assist in your selection of NDT instruments, we have compiled a list of our advanced industrial inspection and analysis solutions.
With Zetec's advanced NDT instruments, scanners, and probes, industries can improve their inspection process. Effortless assessment at each stage of the production facilitates high-volume production while maintaining the industry standard and quality of the product.
Zetec can help you match the right NDT instruments for your industrial inspection and analysis requirements. Contact us today to learn more.