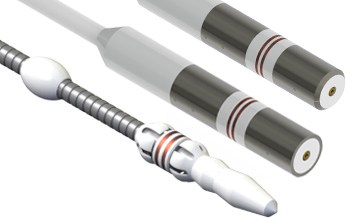 Advanced probes for effective inspections
We set the standard for efficient and accurate inspection with our tubing bobbin probes. We apply advanced materials, design and production so that you get clean eddy current data that's consistent through the duration of the inspection, as well as for the life of the probe.
Our tubing bobbin probes are built for flexibility, allowing for optimal navigation through tubing u-bends, while maintaining high data quality. With our expertise in developing inspection solutions, and our extensive field experience, you can rely on our tubing bobbin probes to satisfy your tube inspection needs.
Bobbins for Nuclear Plants

Zetec has probes for all your nuclear tubing inspection requirements . We cover all PWR's including CANDU, French, VVER and US style nuclear plants. Whether the tubing is straight, has tight bends, expansion areas or dents, we have the right probe. Zetec has encircling bobbin probes for testing control and fuel rods. We have effective options for inspecting the tubes that run from the refuel deck to the reactor vessel More

Bobbins for BOP Plants

Zetec has a new line of Barnacle Scraper probes to make your inspections more efficient and less costly. The unique design will allow you to complete your inspection more quickly while providing better data. Zetec HVAC probes and application specialists can ensure you have the correct probes even when finned tubes are present. More

Carbon Steel Inspections for Oil & Gas

Zetec has the probes necessary to perform your carbon steel pipe inspections. We've recently improved our product line with competitively priced RFT probes. Whether you need single or dual exciters, or flexible boiler probes, we have your solution. Pair the probes with the MIZ-200 and you have the best advantage in the industry for these inspections. More