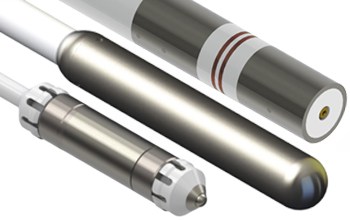 Advanced probes for effective inspections
Our bobbin probes set the standard for efficient and accurate inspections. We apply advanced materials, design and production so that you get clean eddy current data that's consistent through the duration of the inspection, as well as for the life of the probe.
We offer probes designed for specific tubing types including thimble tubing, HVAC, restricted access or u-bends, and high permeability.  With our expertise in developing inspection solutions, and our with our extensive field experience, you can count on our bobbin probes to satisfy your tube inspection needs.
Zetec has always kept a high standard for probe quality and ingenuity. Our Barnacle Scraper probes provide long life, deliver exceptional data quality over the life of the probe, and are engineered to protect your tubing and make inspections easier. Chamfered Barnacle Scraper Probes are our best-selling probes for heat exchangers, whereas Barnacle Scraper probes with sharper leading edges are designed to punch through tubes with significant impediments. Both probes utilize stainless steel front and back bearings to protect the coils and ensure long probe life.

Do you have heat exchangers using tubing with varying permeability?  No problem. Zetec has always had TEO bobbin probes that have very strong magnets for use in tubes with moderate permeability. The recent addition of centering feet in the TEO/WF probe has demonstrated in field inspections that much cleaner and consistent data can be provided.

Zetec has specially design probes to meet the requirements for HVAC tubing. The probes will also help you find flaws in tubing with fins. Inquire as how Zetec's adjustable and regular AC3 probes can help you get the job done