PRODUCTIVITY
A fully integrated, portable solution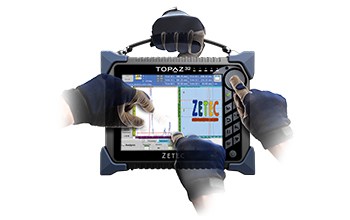 TOPAZ32 enables users to effectively complete the following, all from one unit:
PREPARE specimen and weld for inspection and calibrate set-up. The visual feedback of the on-board shape editor and advanced focal law calculator allows easy setup creation and optimization
ACQUIRE data real time in a range of views on the multi-touch screen. The calibration process is made easy with a complete calibration tool. Superior hardware specifications allow for the most efficient encoded data acquisition process of any portable PA system on the market
ANALYZE the data in different views and automatically produce a table of indications. A full set of basic (cursors, readings) and advanced (merge, C-Scan stitching, gate selectors, volumetric contour, thickness thresholding, etc) analysis tools are available on-board with fully-configurable display layouts
REPORT in different levels to meet specific requirements. Ready-to-print custom PDF reports, including hardware settings, scan plan and indication information, are generated with a single touch
Optimized layouts make it easier
The advanced processing features of the TOPAZ32 onboard calibration provide optimized layouts to facilitate phased array calibration for sensitivity, wedge delay, Time Corrected Gain (TCG) and velocity for each angle.

Calibration status keeps users informed
Before acquisition begins, TOPAZ32 displays the calibration status for all channels (groups). If the relevant symbol on the display is not in green, this indicates that the related parameter has not been calibrated. Only when all symbols are green can scanning and data acquisition commence.

Data displayed in real time for quick analysis
TOPAZ32 displays data in real time, during acquisition even volumetric merged views. With a wide range of predefined, onboard layouts to present data users can create their own layout to meet specific requirements or personal preferences.

A smart investment
An advanced 64-bit on-board computer substantially improves the power of the instrument reducing typical processing times by up to 50% at setup creation, calibration or reporting
The ultra-bright touchscreen is crystal clear whether indoors or outside in direct sunlight and can be operated even when wearing gloves
Getting started with TOPAZ32 couldn't be easier — with a logical graphical interface, users interact just like they would with a smartphone or a tablet
Configuration is simple as well — connect any Zetec scanner or accessory such as a probe to TOPAZ32 and it will automatically recognize and preconfigure accordingly, saving valuable time and resources