UNMATCHED VALUE
TOPAZ16 delivers BIG VALUE in a small footprint
From preparation to reporting, TOPAZ16 is the complete solution. This fully integrated and simplified approach can reduce the amount of equipment needed to perform an inspection.
Fully integrated inspection process
TOPAZ16 is capable of handling all steps in an inspection process helping to lower costs
Preparation: Specimen editor and focal law calculator helps make setups simple
Acquisition: TOPAZ16 has the features that deliver a highly efficient data acquisition process
Analysis: Full suite of basic and advanced tools are onboard for a more efficient and effective analysis
Reporting: TOPAZ16 is ready to print standard or custom reports in a touch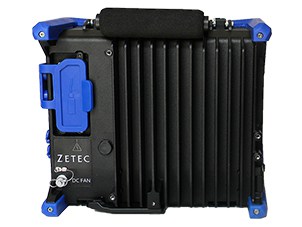 Built to go anywhere
TOPAZ16 is compact and lightweight in a robust aluminum casing with no air intake. The full metallic housing improves durability and thermal transfer efficiency. Plus the unit weighs only 4.5 kg (10 lbs). Combine that with the best in class operating temperature range and 10.4″ high resolution touch display and TOPAZ16 will deliver the results you need almost anywhere, anytime.
More uptime with hot swap battery capability
TOPAZ16 is designed to accommodate two batteries in a hot swappable sequential discharge configuration. So as one battery is being used, the other is being charged enabling the unit to always remain powered by battery. Ideal for in-field inspections where power outlets aren't easily accessible.
High signal quality
With digitizing up to 800% and 16-bit amplitude resolution, TOPAZ16 provides the signal quality you need with less chance of saturation.
Seamless setup with Zetec scanners and probes
Getting started with TOPAZ16 couldn't be easier. When any Zetec scanner such as the award-winning NDT PaintBrush, Weld Crawler or probe is connected, TOPAZ16 can automatically recognize and preconfigure the inspection sequence accordingly, saving valuable time.
More Flexibility to meet your needs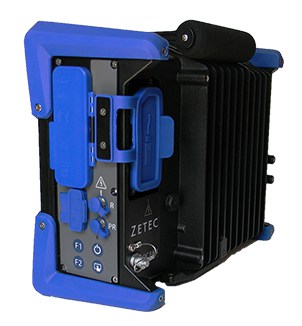 Multiple scanning configurations: sector, linear and compound
One Dedicated UT Channel: a separated conventional UT channel offers 200v pulser and works in P/E or P/C configurations for TOFD examinations
Fast and safe data transfer: TOPAZ16 features an internal solid state drive (SSD) for quick, reliable data transfer and storage during operation
Numerous connectivity options: TOPAZ16 has the connectivity options you need. Includes One USB 3.0 port (delivering 10x speed improvement vs. USB 2.0), two USB 2.0 ports, Gigabyte LAN, HDMI, plus one UT channel and a PA UT connector
IPEX and ZPAC connector options available