Zetec to Showcase Eddy Current and PAUT Solutions at 2021 ASNT Annual Conference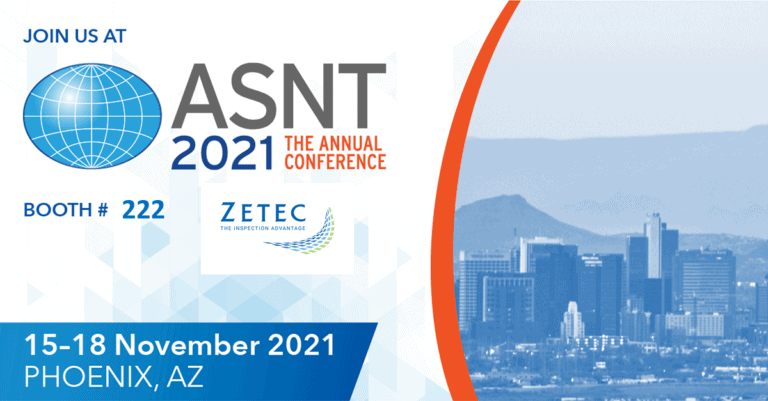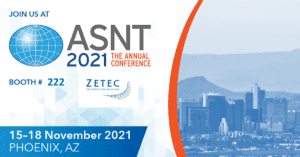 Zetec Inc. will feature its latest eddy current testing (ET) and phased array ultrasonic testing (PAUT) inspection technologies as well as present two new technical papers at the 2021 ASNT (American Society for Nondestructive Testing) Annual Conference in Phoenix from Nov. 15-18.
Zetec product experts and engineers will be at Booth 222 to demonstrate the company's portfolio of NDT instruments, probes and software first-hand.
Ultrasonic technology demonstrations will include:
New! EMERALD industrial PAUT system. Recently introduced, EMERALD is a compact and powerful phased array UT system with faster data acquisition, more detailed inspection results and exceptional performance in extreme industrial applications. EMERALD delivers real-time multi-TFM (Total Focusing Method) image-processing capability both onboard and offline, plus Full Matrix Capture (FMC, up to 128 elements) and Plain Wave Imaging (PWI). Demonstrations at Booth 222 will focus on EMERALD's TFM and PWI capabilities for weld inspections.
TOPAZ family of portable PAUT instruments. TOPAZ integrated, portable phased array UT instruments produce faster, more accurate results in demanding ultrasonic inspection environments. Driven by UltraVision Touch software, TOPAZ64 leads its product class with real-time total TFM capabilities, high-resolution FMC and the highest acquisition frequency in the portable PAUT instrument category. Demonstrations will include inspections of pipe elbows using TOPAZ16 and Zetec's new ElbowFlex™ scanner.
Eddy Current technology demonstrations will highlight:
MIZ instruments, Surf-X probes and UltraVision ET software. Powerful and easy to use, UltraVision ET delivers fast, accurate eddy current inspection results for heat exchanger tubing and surface testing in oil and gas, BOP (balance of plant) and other industries. It uses an interface based on Zetec's popular UltraVision software for ultrasound, a familiar environment that technicians adapt to quickly. UltraVision ET is the only software to support conventional pencil and Zetec Surf-X array probes for surface applications using Zetec's advanced MIZ-21C handheld and MIZ-200 high-performance instruments, as well as for tubing inspections. Demonstrations at Booth 222 will include bolt-hole inspections using the MIZ-21C and a ZM-5 scanner.
Zetec will make two technical presentations at the conference:
"Layer Identification and Enhanced Flaw Recognition for EC Bolt Hole Inspections," led by Nick Cardillo, Eddy Current Sales Engineering Director, on Nov. 17 from 4 to 5:30 p.m.
"Innovative PAUT Inspection Solution for Multi-Layered Pressure Vessel Welds," presented by Guy Maes, Ultrasonic Sales Engineering Director, on Nov. 18 from 10:30 a.m. to noon.
The ASNT Annual Conference is the industry's largest event dedicated to the latest advances in NDT technology.