Zetec Signs Exclusive Agreement with Structural Integrity Associates to Integrate LATITUDE Encoding System with TOPAZ Instruments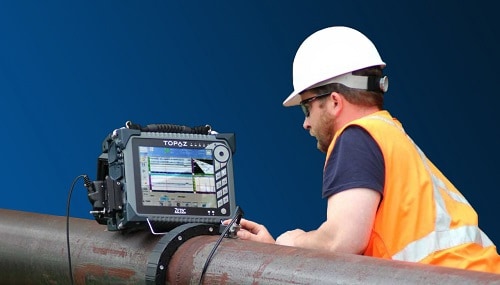 Zetec Inc., a global leader in nondestructive testing (NDT) solutions, announced an exclusive agreement with Structural Integrity Associates Inc. to integrate and promote its LATITUDE non-mechanized probe position and orientation encoding technology with the Zetec TOPAZ family of portable phased array ultrasonic testing (PAUT) instruments.
"We are excited to work with Structural Integrity, a global leader in providing innovative engineering solutions, to bring this exciting encoding technology to the TOPAZ platform," said Frédéric Laprise, General Manager of Zetec Canada and Phased Array Ultrasound Technology Business Unit. "LATITUDE is a revolutionary encoding system that further enhances the benefits of TOPAZ as a fast, portable, ultrasonic inspection solution for power generation, oil and gas, and other critical industries."
The LATITUDE non-mechanized encoding system allows a single operator to perform an inspection by hand while producing a detailed digital record of the inspection at all times. The electronic control unit is specifically designed to work directly with the TOPAZ instrument, which allows the operator to control the LATITUDE system through the TOPAZ user interface.
"The development of the LATITUDE technology, and integration with the Zetec TOPAZ system, have allowed us to deliver more cost-effective and efficient encoded examinations in the Power Generation market while maintaining the same level of rigor as automated examinations," states Laney Bisbee, CEO/President of Structural Integrity Associates. "We are excited to work with Zetec to make LATITUDE available on a global scale, helping the many industries that they serve realize the same benefits that we have delivered to our clients."
LATITUDE together with TOPAZ is a simple, portable, fully integrated solution that can eliminate the need for cumbersome and complex automated scanning technology, significantly reducing the time spent per inspection location and minimizing the number of required operators.
"LATITUDE and TOPAZ are an ideal combination for users who do not want to deal with the complexities of automated inspections but still would like a complete record of the data acquired," states Laprise. "This agreement with Structural Integrity will extend the capabilities of the industry's leading portable phased-array instrument family and provide a significant inspection advantage for TOPAZ users."