Zetec Moves to Expanded Headquarters to Serve Europe, the Middle East, Africa, and India
Zetec has moved to an expanded headquarters in France. The move enables Zetec to better handle the regional growth the company has been experiencing, and more effectively serve customers and its distributor network in Europe, the Middle East, Africa, and India.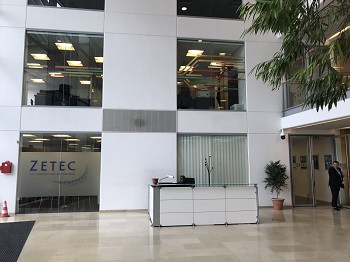 The office, located 12 km south of Paris, consolidates Zetec executives and staff in the region, including sales, administration, and technical support, and provides space for product training and testing. It is minutes from Paris Orly Airport and access to the Paris RER and Paris Metro rail network.
"Our new EMEAI headquarters reinforces Zetec's commitment to our customers and channel partners in the region," said Laurent Enenkel, Vice President, Zetec EMEAI. "We have experienced significant growth in these important markets, and having our entire staff together in a more functional, versatile space provides opportunities to improve collaboration and deliver a higher level of support the industry has come to expect from Zetec."
Effective immediately, the new address and phone number are:
Zetec Inc.
Air Park Paris Sud
3 avenue Jeanne Garnerin
ZAC des Hauts de Wissous
Bâtiment B5 Le Pélican
91320 WISSOUS
Phone: 00 33 1 60 92 39 39
Fax: 00 33 1 60 92 39 40
Zetec has global engineering and manufacturing centers in Quebec City and at its corporate headquarters in Snoqualmie, Washington. Zetec support spans the globe, with Centers of Excellence in Houston, Paris, Seoul, Shanghai, and Tokyo.