Zetec® Introduces First Truly Affordable Eddy Current Instrument with Surface Array
Zetec Inc., a global leader in nondestructive testing (NDT) solutions, today announced the launch of the MIZ-21C, the first truly affordable handheld eddy current instrument with surface array capabilities.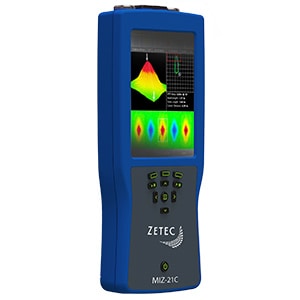 The MIZ-21C can deliver fast, accurate inspections in demanding NDT applications including aerospace, oil and gas, manufacturing, and power generation. The surface array solution can reduce inspection time by up to 95% compared to traditional handheld pencil probes. The ergonomic design, long battery life, and intuitive touchscreen mean you can inspect more areas faster than ever without fatigue.
The MIZ-21C supports a wide range of existing probes and scanners, which further extends its value. "MIZ-21C is an affordable and capable device that can go anywhere you need to go for your inspection," said Jesse Herrin, Eddy Current Systems Product Manager for Zetec. "MIZ-21C not only saves time, it opens the door to new inspection possibilities by bringing the power of surface array to places it has never been before."
The MIZ-21C is available in three models with single frequency and surface array options to meet a wide range of inspections needs and budgets. It will be on display at the Nondestructive Testing Management Association (NDTMA) Annual Conference in Las Vegas from February 13-15. Visit the Zetec booth (#10) or zetec.com for information.