World-Class Manufacturing Quality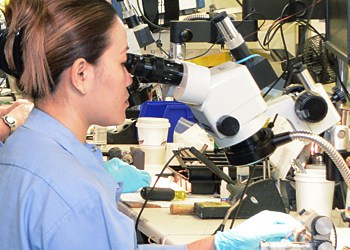 Product performance comes first at Zetec, which is why being our own manufacturer is so important to us—and our customers.
Count on products that deliver the first time, every time. Being our own manufacturer gives us continuity and control from design through delivery. We make products that set new standards in NDT accuracy, consistency and reliability, and we assure these standards through the quality of process that comes from integrated design, engineering and manufacturing.
Get high-capacity manufacturing when you need it. Zetec's multiple centers of manufacturing excellence enable us to address the industry's highest-volume NDT needs. The high capacity of our manufacturing facilities, and our control over aligning them to meet specific customer needs, allows us to deliver high volumes on demanding schedules.
Reduce lead times when it matters most. Our customers work in dynamic industries with complex systems and fast-changing field realities that demand rapid response. Being our own manufacturer gives us the control to deliver on tight lead times.
Profit from integrated quality control processes and people. When it comes to quality, being our own manufacturer is a tangible advantage to our company and our customers. Our integrated approach means that quality control is prioritized and embedded throughout design, engineering and manufacturing.
Gain the long-term economy that comes from our manufacturing practices. High return on investment, low total cost of ownership. Our training, domain experience and lean manufacturing practices translate into high-performance products with long lives, brilliant product functionality, and the efficiencies of comprehensive solutions from a single source.