What to Look for in a Handheld Eddy Current Instrument
By Jesse Herrin, Zetec Product Manager – Eddy Current Systems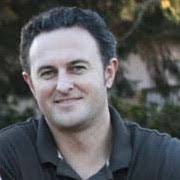 Eddy current testing is a fast, accurate, chemical-free method for detecting a variety of surface and sub-surface defects, including cracks, corrosion, and heat damage. It's a proven technology for inspections of welds, rivet holes, tubing, and other ferrous and non-ferrous components in aerospace, oil and gas, and other industries.
Because many of these inspection points are physically difficult to reach, technicians prefer instruments that are highly portable and easy to handle yet don't compromise data-acquisition speed, performance, or probability of detection.
Fortunately, eddy current tools are evolving in several important ways: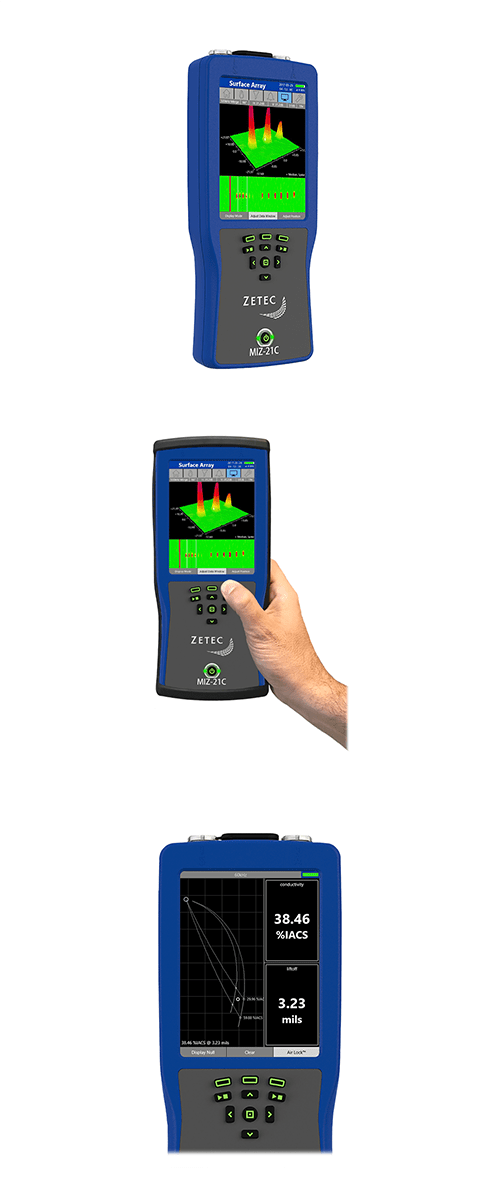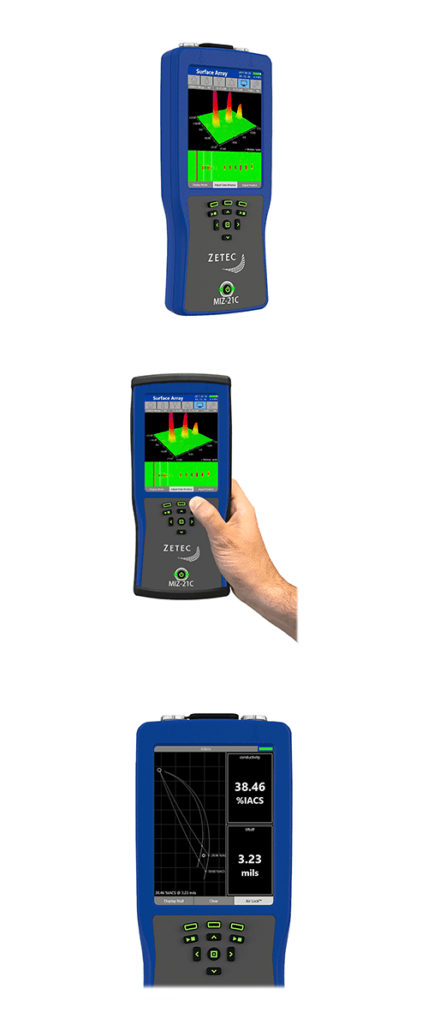 Ergonomics: The true test of an instrument's value is whether it's the tool a technician will reach for first. An ergonomic design, small form factor, and light weight (less than 3 lbs.) allow technicians to inspect more areas faster with minimal fatigue. One test of an instrument's ergonomics and portability is how easy it is to operate with only one hand—indeed, one gloved hand.
Display Size: A large, colorful, sunlight-readable C-scan display can present a digital "big picture" that helps the technician find more flaw indications in less time. For example, Zetec's MIZ-21C handheld eddy current instrument has a 5.7-inch (480 x 640 pixels) multi-touch display that's large enough to handle a range of modes, including two signals side by side, or a reference signal and a live test signal simultaneously.
Touch Screen and UI: Taking cues from consumer electronics, the MIZ-21C's user interface (UI) has by far the shortest learning curve of any available handheld eddy current instrument. Technicians can quickly rotate, zoom, and pan using the two-finger capacitive display. The onscreen keyboard further increases user efficiency. Universal symbol buttons handle all functions and are ideal for gloved inspections.
Signal Quality: The signal-to-noise ratio (SNR) of many eddy current instruments limits their ability to detect very small flaws and the loss of material that can occur in friction stir welds and multi-layer structures. Software that supports single- and dual-frequency eddy current, rotating scanners, and conductivity with the viewing tools of Impedance, Sweep, Waterfall, and C-Scans can help maximize the instrument's ability to manage SNR and deliver an accurate, detailed inspection result.
Automation: The ability to store different eddy current test configurations within the instrument, manipulate signals and views for each test application, and use automation to remove steps or remove certain tasks are the keys to a fast, efficient inspection. One example is the MIZ-21C's "auto liftoff rotate" button. By automating this task, the technician can repeat it more consistently while using fewer steps.
Power: Battery life is important—a 10-hour charge allows technicians to work an entire shift without stopping to change batteries—but so is convenience. Does the technician need a tool to open the battery cover? Is the battery hot-swappable or does the instrument need to be powered down first? Is a separate recharger available or does the battery need to recharge inside the instrument?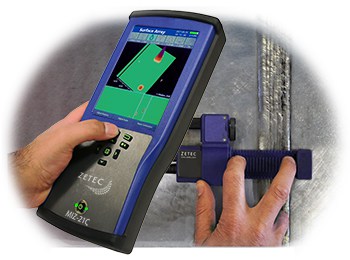 Compatibility: An instrument's modularity and compatibility with legacy probes and other consumables can eliminate costs associated with keeping the current fleet of instruments and accessories operational.
Each instrument in the Zetec MIZ-21C family is compatible with Zetec's latest probes and scanners, including the Surf-X line of surface array probes, yet can drive thousands of off-the-shelf accessories from other brands.
MIZ-21C enables a seamless transition between the old and new, and simultaneously introduces inspection advantages that generate fast ROI whether it's connected to the latest probes or legacy systems. It can accommodate thousands of off-the-shelf accessories, including common probes and scanners made by other manufacturers.
Ultimately, a handheld eddy current instrument should be a complete platform: a cost-effective handheld instrument with surface array capabilities, powerful embedded software, compatibility with new and legacy probes and scanners.
With a focus on portability, ease of use, connectivity, the ability to upgrade, and low total cost of ownership, MIZ-21C delivers every inspection advantage you have today while setting you up for the future.
Zetec is a global leader in nondestructive testing (NDT) solutions for the critical inspection needs of industries the world counts on every day. To learn more, contact Zetec today!