FEATURES
MIZ-21C is packed with features for an inspection advantage
MIZ-21C is an affordable and capable handheld device that can handle inspections virtually anywhere. With best in class features that not only save time but open the door to new inspection possibilities.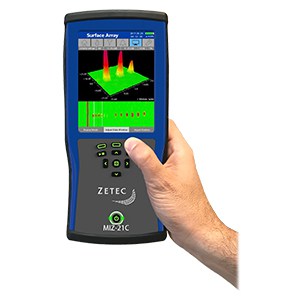 Surface Array in a Handheld
Cost-effective, highly portable solution that delivers significant advantages over Liquid Penetrant Testing (PT) and Magnetic Particle Testing (MT)
Increase Uptime, Wherever You Go
Features up to a 10 hour battery life so users can operate the unit for an entire shift without recharging
Replaceable batteries supporting 24 hour operation
Universal Symbol Buttons & Multi-Language Software
One model for worldwide use and deployment
Universal symbol buttons handle all functions and are ideal for gloved inspections
Ergonomic Design
Small, lightweight and comfortable to handle in tight spaces. MIZ-21C minimizes arm fatigue common with other portable instruments
Intuitive Touchscreen
Quickly rotate, zoom and pan using the two finger capacitive display
Onscreen keyboard further increases user efficiency.
Flexible Connectivity
Interface and transfer files through USB, Wi-Fi, and Bluetooth technology
Field Ready
Fully sealed and temperature rated for most outdoor conditions
Drop and vibration tested for rugged use
Highly Versatile
Standard ¼-20 Fitting to connect off-the-shelf accessories
Removable cover with adjustable hand straps and stand is included
Three Models Available
MIZ-21C-SF: Single Frequency, Conductivity
MIZ-21C: Dual Frequency, Conductivity, Rotating Scanner
MIZ-21C-Array: Dual Frequency, Conductivity, Rotating Scanner, Eddy Current Array (ECA)