High Stability X-Probe Press Release
Zetec's New High Stability X-ProbeTM Can Inspect Up To 30% More Tubes vs. Current Solutions
Less Probe Changes Can Lower Total Costs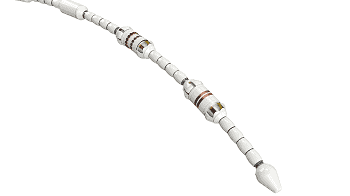 Snoqualmie, WA — Zetec, Inc. introduces the new High Stability X- ProbeTM for steam generator tubing inspections. The High Stability X-Probe introduces advanced features that deliver significant benefits. An enhanced centering foot design includes spring supported centering feet and proprietary abrasion resistant material. This innovation enables the probe to center more accurately for a longer period of time. With an ability to inspect more tubes per probe, costs can be lowered as a result of fewer overall probe changes. Estimates for the cost of a probe change can exceed $20,000, so not only is the time for an inspection considerably reduced with the new X-Probe, but savings are also realized for less rad waste and lower dose. This innovative advancement in technology provides significantly faster inspections and complete tube coverage, while lowering your inspection costs. In fact, the Zetec® High Stability X-Probe finds all indications on the first pass at speeds 40 times faster than Motorized Rotating Probe Coils (MRPC).
EPRI equivalency reports have been created for all standardized X-Probe sizes, ensuring that they are inspection ready at purchase. Both the array and bobbin coils meet this equivalency and may be used for inspections of record. High Stability X-Probes have also been designed for the CANDU and French markets.
"As the largest supplier of probes worldwide to the steam generator market, Zetec recognizes the challenges our customers face and develops solutions that deliver the results they need. This new High Stability X-Probe exemplifies that. With significant time savings, longer probe life and improved detection, customers can save tens of thousands of dollars on inspections" states Bill Ziegenhagen, Zetec Probe Product Manager.
High Stability X-Probes are designed to be "one-pass" inspections for acquiring both bobbin and special interest tests. Sizes for 7/8, 3/4, 11/16 and 5/8 tubing are available. For more information on the High Stability X-Probe click here
About Zetec®
Zetec is a global leader in nondestructive testing (NDT) solutions for the critical inspection needs of industries the world counts on every day—including power generation, oil and gas, transportation, heavy industry and manufacturing. We serve as a single source for high-performance solutions in both eddy current and ultrasonic technologies. For nearly 50 years, we have advanced NDT standards and science, providing new insight and control through inspection solutions that protect our customers' most important assets and ensure the quality of their products. By integrating design and engineering with our own manufacturing, Zetec delivers solutions that optimize productivity, safety and total cost of ownership. Zetec is a subsidiary of Roper Technologies, Inc., with global engineering and manufacturing centers in Quebec City and at our corporate headquarters in Snoqualmie, Washington. Zetec support spans the globe, with Centers of Excellence in Houston, Paris, Seoul, Shanghai and Tokyo. For more information about Zetec®, visit: www.zetec.com and follow us on LinkedIn.