TOPAZ16 Press Release
New Zetec TOPAZ®16 Ultrasonic Instrument Delivers Best-in-Class Productivity and Unmatched Value
UltraVision® software onboard, large multi-touch screen and leading operating temp range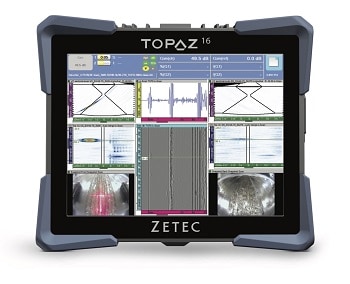 Snoqualmie, WA — Zetec, Inc. introduces the new TOPAZ16, a 16-channel fully integrated phased array ultrasonic instrument for nondestructive testing (NDT) projects. Zetec has always had a reputation of a premier products supplier of NDT solutions. TOPAZ16 is Zetec's entry into more mainstream inspection markets. It is ideal for the most common applications including weld inspections, corrosion mapping, encoded or manual inspections and inspections of complex components. With a highly compact footprint plus proven Zetec quality and innovation, TOPAZ16 is sized for convenience and built to perform.
Best in Class Productivity
Since its introduction in 2013, the award-winning TOPAZ ultrasonic instrument family has always stood for portable productivity. The new TOPAZ16 is no different. Featuring powerful UltraVision Touch software onboard, TOPAZ16 data analysis and reporting capabilities are the best in its class. An advanced focal law calculator with visual feedback simplifies preparation for complex inspections. Plus, onboard volumetric merge and measurement tools speed up the analysis process. With a class leading operating temperature range and a rugged aluminum casing with no air intake, TOPAZ16 is built to meet a wide range of inspection demands regardless of the environment. The 10.4" high resolution display of TOPAZ16 has one of the largest size ratios when compared to an instrument's total footprint. This highly responsive multi-touch screen offers the best resolution in its class so it is crystal clear inside and outdoors. Plus, users interact just like they would with a smartphone or a tablet.
Unmatched Value
From preparation to reporting, TOPAZ16 is the complete solution. This fully-integrated and simplified approach can reduce the amount of equipment needed to perform an inspection.
Getting started with TOPAZ16 couldn't be simpler — connect any Zetec scanner or accessory such as a probe to the TOPAZ16 and it will automatically recognize and preconfigure accordingly, saving valuable time and resources.
"For almost 50 years, Zetec has set the standard for high performance, high quality inspection solutions," states Federico Zottig, Zetec Product Manager. "TOPAZ16 continues that standard while adding exceptional value for mainstream inspection applications. It's an unbeatable combination" adds Zottig.
For more information on the TOPAZ16 ultrasonic instrument, click here.
About Zetec®
Zetec is a global leader in nondestructive testing (NDT) solutions for the critical inspection needs of industries the world counts on every day—including power generation, oil and gas, transportation, heavy industry and manufacturing. We serve as a single source for high-performance solutions in both eddy current and ultrasonic technologies. For nearly 50 years, we have advanced NDT standards and science, providing new insight and control through inspection solutions that protect our customers' most important assets and ensure the quality of their products. By integrating design and engineering with our own manufacturing, Zetec delivers solutions that optimize productivity, safety and total cost of ownership. Zetec is a subsidiary of Roper Technologies, Inc., with global engineering and manufacturing centers in Quebec City and at our corporate headquarters in Snoqualmie, Washington. Zetec support spans the globe, with Centers of Excellence in Houston, Paris, Seoul, Shanghai and Tokyo. For more information about Zetec®, visit: www.zetec.com and follow us on LinkedIn.