Features
Highly skilled team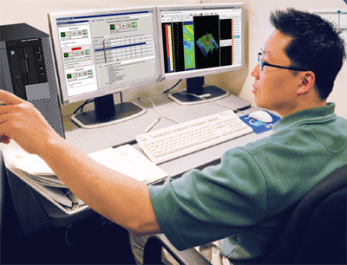 The RevospECT team is not new to eddy current analysis, this team has combined experience that measures in the hundreds of years. The team draws from this experience to evaluate your eddy current analysis guidelines and develop RevospECT auto analysis configurations to meet your exacting requirements, not only for your current active damage mechanisms but also considering detection of potential anomalies.
Features of the RevospECT Service
Dedicated experts to evaluate your analysis guidelines, develop a RevospECT configuration, provide you with a validation report on the configuration, and deploy to your site and perform the analysis service.
Qualified for all Probe Types
EPRI AAPDD tested and passed for MRPC, X-Probe Array, and Bobbin data
Fast and Efficient Analysis
Extensible tube-processing technology exceeds the pace of acquisition
Improved Inspection Economics
Enables the analysis of advanced probe technologies without increasing schedule
Robust Configuration Control
Ensures system integrity before, during, and after the job
Integrates with Existing Systems
Reads multiple raw data file-types, and provides various industry options for results exporting including the EPRI Steam Generator Guidelines Rev 7 report standard
Multi-Technique Analysis
Analyzes dual technique (bobbin and array) data types separately or combined
Extended Technology Tool Set
Augmenting the analysis, the RevospECT team can configure RevpsoECT for additional reports utilizing  HDC (Historical Data Comparison) for bobbin, Noise Measurement and Monitoring, Sludge Reporting, AVB Insertion Depth Reporting, and other special project reporting.
Contact Zetec to find out how RevospECT can support your next inspection.
Inquire


---

RevospECT and HDC are registered trademarks of Zetec Inc.