RevospECT Pro Software Press Release
New Zetec RevospECT® Pro Automated Analysis Software:
More Control with Less Resources
The inspection industry's first commercially available automated analysis system that delivers "Power you Control"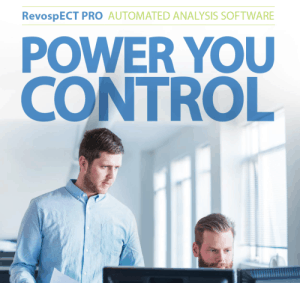 Snoqualmie, Washington – February 25, 2016 – Zetec, Inc. is pleased to announce the commercial launch of its automated eddy current analysis software RevospECT® Pro. The same software technology that has been proven in the field since 2009 with RevospECT inspection services is now available for end customer use.
RevospECT Pro is the industry's first commercially available high powered, adaptable and scalable automated analysis system. It provides end users the power and control to perform comprehensive automated data analysis. With a proven track record in the field, RevospECT Pro meets rigorous industry standards for flaw analysis from bobbin, rotating and array inspection techniques.
"We heard our customers loud and clear when they said they wanted to take ownership of the software used for their automated analysis of eddy current data. We embarked on a mission to improve the usability of the software to make it feasible for non-experts to learn and operate quickly," said Tom O'Dell, General Manager of the RevospECT business. "Our software team enhanced the software to simplify the workflow and reduce complexity. We are now finding that within a few hours we can teach users how to run the dashboard screen of RevospECT Pro. This is an unprecedented shift in the industry giving utilities and the service provider more control over the automated analysis process."
Once configured for an inspection, RevospECT Pro will process and analyze data at an extremely fast rate utilizing its robust distributed processing power, often outpacing data acquisition rates and generating results that can be verified immediately by the reviewing data analyst. More importantly than system speed is the consistency of the results that are delivered using computer-aided analysis.
For nuclear steam generator inspections, RevospECT Pro can be used in a primary or secondary role, or in a single pass configuration, saving significant time and money during an inspection. In addition, RevospECT Pro is the foundation for delivery of value added tools such as noise measurement monitoring and automated HDC® (Historical Data Comparison) which are processed in parallel with the core analysis for timely results.
"We are extremely excited about RevospECT Pro and plan to add it to our arsenal of inspection capabilities. RevospECT Pro allows us to offer the most comprehensive highest performance analysis system – tuned to meet our customer's exacting requirements. Having access to this state-of-the-art automation technology is a game changer for us and for the industry", says Marc Brown, Principal Level III, and co-owner of NDE Technology.
The RevospECT Pro software, custom configuration, expert field service, training and consulting can be purchased and deployed on a per inspection basis guaranteeing the latest technology in use every time. Contact your Zetec sales representative for more information or click here to learn more.
About Zetec®
Zetec is a global leader in nondestructive testing (NDT) solutions for the critical inspection needs of industries the world counts on every day—including power generation, oil and gas, transportation, heavy industry and manufacturing. We serve as a single source for high-performance solutions in both eddy current and ultrasonic technologies. For nearly 50 years, we have advanced NDT standards and science, providing new insight and control through inspection solutions that protect our customers' most important assets and ensure the quality of their products. By integrating design and engineering with our own manufacturing, Zetec delivers solutions that optimize productivity, safety and total cost of ownership. Zetec is a subsidiary of Roper Technologies, Inc., with global engineering and manufacturing centers in Quebec City and at our corporate headquarters in Snoqualmie, Washington. Zetec support spans the globe, with Centers of Excellence in Houston, Paris, Seoul, Shanghai and Tokyo. For more information about Zetec®, visit: www.zetec.com and follow us on LinkedIn.