QuartZ Press Release
Zetec® QuartZ Ultrasonic Instrument Speeds Up Complex Inspections
One of the industry's fastest and most powerful solutions for integration projects.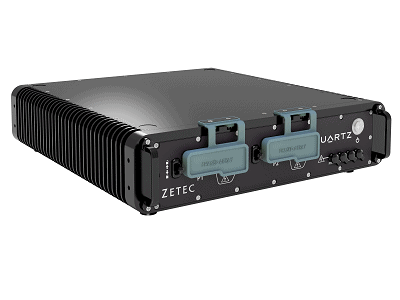 Snoqualmie, WA — Zetec, Inc. introduces QuartZ, the next evolution in the field of Phased Array and Conventional ultrasonic technology instrumentation for nondestructive testing (NDT) integration projects. Optimally designed for Aerospace, Manufacturing as well as Oil & Gas markets, Zetec® QuartZ achieves an ideal balance between speed, power and flexibility for the most complex inspection environments and applications.
QuartZ incorporates many new features that can dramatically increase inspection productivity. The Parallel firing capability enables users to simultaneously run two parallel phased array channels in one unit. An integrated probe splitter can connect two phased array probes without additional accessories. High power phased array channels means QuartZ can inspect difficult to penetrate materials with ease. Additionally, both phased array and conventional ultrasonic channels are seamlessly integrated in the same unit for added flexibility.
When combined with Zetec UltraVision® software, users can tap into the full power of QuartZ. Offering a 3D work environment, UltraVision delivers the full inspection process within the same software package, from inspection design to advanced analysis and reporting.
QuartZ also supports the highly innovative Time Reversal technique from Zetec. Together, this solution simplifies the inspection process of complex composite parts for rapid and reliable phased array ultrasound inspections. It eliminates the need for complex surface following mechanics or previous knowledge of the exact part shape.
"QuartZ speed and power, combined with UltraVision software flexibility create the perfect solution for custom inspection needs" states Federico Zottig, Zetec Product Manager.
Designed for scalable integration, multiple QuartZ units can be synchronized in a simple configuration without losing data throughput. "This type of scalability makes QuartZ an ideal building block for any integration project" adds Zottig.
For more information on QuartZ, click here.
About Zetec®
Zetec is a global leader in nondestructive testing (NDT) solutions for the critical inspection needs of industries the world counts on every day—including power generation, oil and gas, transportation, heavy industry and manufacturing. We serve as a single source for high-performance solutions in both eddy current and ultrasonic technologies. For nearly 50 years, we have advanced NDT standards and science, providing new insight and control through inspection solutions that protect our customers' most important assets and ensure the quality of their products. By integrating design and engineering with our own manufacturing, Zetec delivers solutions that optimize productivity, safety and total cost of ownership. Zetec is a subsidiary of Roper Technologies, Inc., with global engineering and manufacturing centers in Quebec City and at our corporate headquarters in Snoqualmie, Washington. Zetec support spans the globe, with Centers of Excellence in Houston, Paris, Seoul, Shanghai and Tokyo. For more information about Zetec®, visit: www.zetec.com and follow us on LinkedIn.