SOFTWARE
NDT PaintBrush is compatible with the TOPAZ, using UltraVision 3.7R1 and up.
For more information about the TOPAZ, click here.
For more information about UltraVision, click here.
Dedicated GUI for NDT PaintBrush
A new dedicated and intuitive interface for configuring your NDT PaintBrush scanner is included in UltraVision 3.7R1 Touch for TOPAZ.
This interface allows adjusting the positioning and references for the inspection by simply a few clicks on TOPAZ screen.
Probe position marker
The agility of NDT PaintBrush combined with the real time data visualization optimizes and simplifies the inspection process.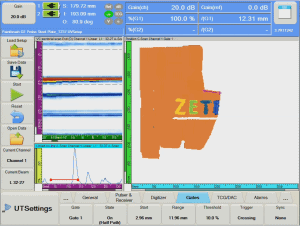 Dedicated report representation
A dedicated reporting feature was added to present data from corrosion mapping applications in the reporting process.
This tool includes statistical measurement such as histogram information on the inspection reporting.
Data Stitching
When inspecting a large surface, it is sometime useful to separate the inspection job in smaller sections for an easier approach.
Thanks to the new Data Stitching feature, there smaller sections can be easily reconstructed into one consolidated data file.
Data Stitching function allows adjusting the position of the data sections and correcting for angular misalignments.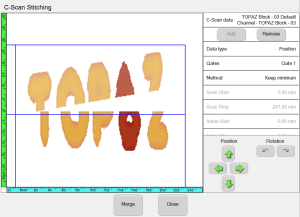 Auto TCG
The new Auto TCG calibration allows the user to create multiple TCG points all at once. Using only one gate long enough to cover all reflectors, it is now possible to sweep through all of them and create all the TCG points in one step.
Data Export
A new Data Export tool allows exporting inspection data into .txt files that can be used for further processing.