F-15 Longeron Inspection
Inspection Challenges
The F-15 fleet was grounded awaiting the conclusion of a crash investigation. It was discovered that a failed longeron was the cause of the November 2007 crash and F-15's within the USAF inventory would need to undergo rigorous inspections. According to a January 2008 report, an additional 9 aircraft were affected with faulty longerons.
The biggest challenge facing NDT inspectors with this component is the "multi-layered stack-up" of materials and the need to differentiate between anomalies, defects and non-relevant indications within the inspection area circled in blue. Current inspection instruments can identify anomalies; however, it is up to a seasoned inspector to identify relevant and non-relevant indications as well as defects. Additionally, this inspection requires two inspectors to complete due to the lack of a data buffer on currently available equipment.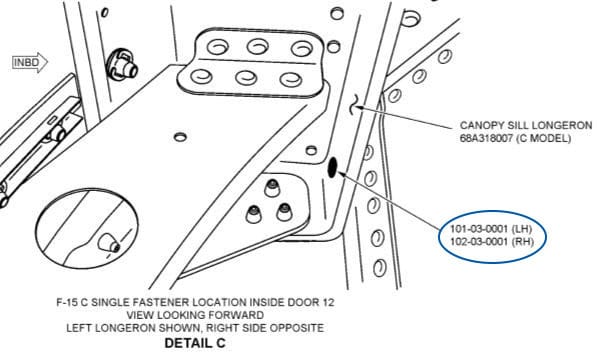 Recommended Solution
A Zetec MIZ-21C Handheld Eddy Current Instrument with ZM-5 bolt hole scanner can eliminate the need for multiple inspectors by using a data buffer to store acquired data. This will allow an inspector to review the inspection area after each hole is inspected. Additionally, the data can be saved so it can be reviewed long after the inspection has been completed.
Multiple display modes provide more options for data review and analysis. While in C-Scan viewing mode, the inspector can also identify multiple layers of material in addition to capturing anomalies within the inspection area. The inspector can easily identify the longeron and is able to tell if the flaw is located within or outside the longeron. This eliminates the need to use probe stops to identify flaw location.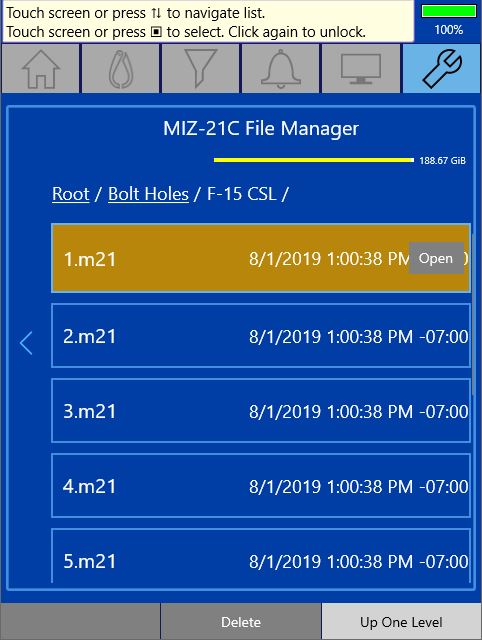 Zetec Products
MIZ-21C Eddy Current Instrument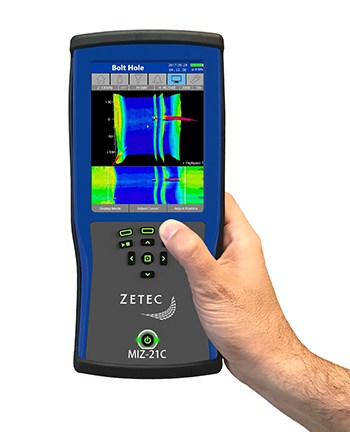 Introducing MIZ-21C, the most advanced handheld instrument with surface array capabilities. Its ergonomic design, long battery life and intuitive touchscreen enable the user to inspect more areas faster than ever without fatigue. Advantages include:
Ergonomic Design: Small, lightweight and comfortable to handle in tight spaces. MIZ-21C minimizes arm fatigue common with other portable instruments.
Increase Uptime, Wherever You Go: Features up to a ten-hour battery life so users can operate the unit for an entire shift without recharging. Replaceable batteries support 24 hour operation.
Data Buffer: Review and save up to 60 seconds (or 10 meters) of data.
File Manager: Save multiple data files for review at a later time.
Intuitive Touchscreen: Quickly rotate, zoom and pan using the two finger capacitive display. The onscreen keyboard further increases user efficiency.
Universal Symbol Buttons & Multi-Language Software: One model for worldwide use and deployment. Universal symbol buttons handle all functions and are ideal for gloved inspections.
The ZM-5 High-Speed Scanner is a convenient handheld tool designed for rapid and thorough inspection of small diameter holes, such as bolt hole and fastener holes. Advantages include:
Small form factor for getting into tight inspection areas
Fast inspection speeds with accurate, detailed results
Designed to provide constant rotation speed under load (600 to 3000 rpm)
Excellent detection of indications at material transitions and layers
Benefits
Eliminates the need for multiple inspectors
Identify the layers where flaws are located
Excellent detection of cracking regardless of orientation
Industry leading signal-to-noise ratio (SNR)
Remarkable C-Scan presentations
High level of detection in a rapid inspection